LS CABLE & SYSTEM TO BUILD 2ND PLANT IN DONGHAE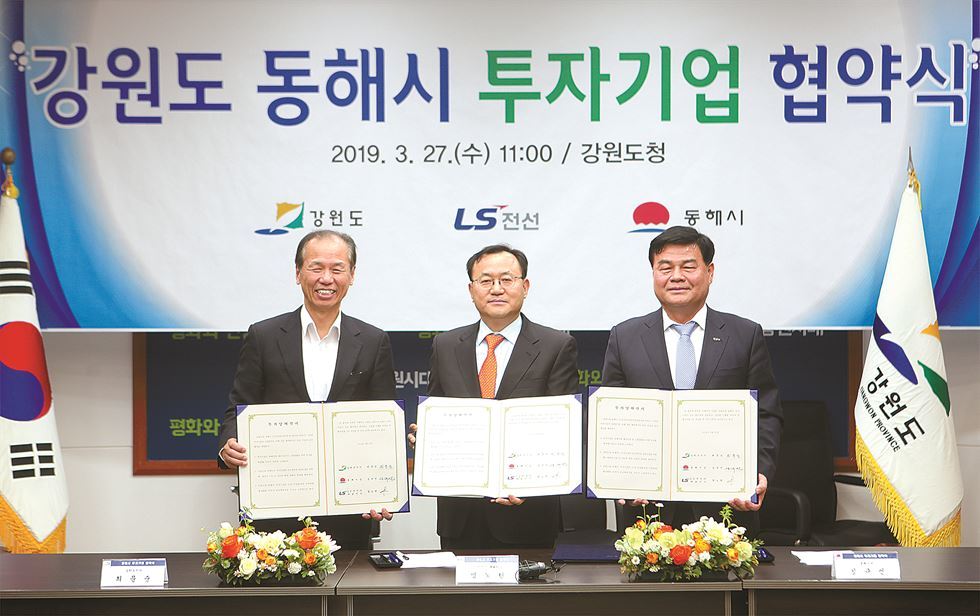 The firm said it signed a memorandum of understanding with Donghae City and Gangwon Province. LS has been operating the country's first submarine cable manufacturing plant in the city since 2008 and the new facility will be built next to it.
Construction will begin this year, the firm said. "The second cable plant will be built right next to our submarine cable manufacturing plant, occupying a 104,000 square meter site," a spokesman said, adding the plant will be completed by the early 2021.
At the new plant, LS Cable & System will manufacture extra-high-voltage cables including high voltage direct current cables.
"With the new plant, the cable manufacturing capabilities of the Donghae plant will be increased by 250 percent," the firm said.
While the firm planned to originally build a new plant overseas, it decided to add a new cable manufacturing factory here to contribute to revitalizing the regional economy.
"To meet the growing demand for extra-high-voltage cables from Europe and Asia, the firm has been considering adding new facilities to its overseas plants in Poland or Vietnam. But we decided to invest in the local community to create more jobs here. Also the administrative support offered by Donghae City and Gangwon Province also helped us make this decision," the firm said.
"We will try to make the Donghae plant a hub of inter-Korean economic cooperation in Gangwon Province ," Myung Roe-hyun, CEO of the firm, said.
Gangwon Province Governor Choi Moon-soon expressed his gratitude for the firm's investment plan. "While more companies are investing overseas, LS Cable & System's decision to invest in the local community means much more," he said.
Source: Wire World