wire China 2016: Asian largest event of the wire industry is to be splendid held from 26 to 29, September!
wire China 2016
Shanghai New International Expo Centre
Shanghai, China, 26 - 29 Sep, 2016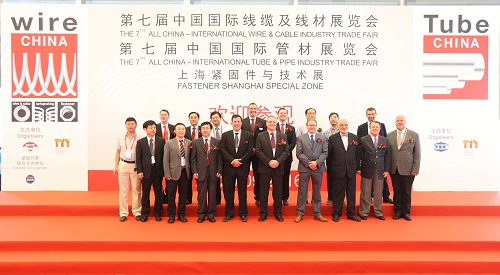 wire China 2016: Asia's largest event of the wire industry is to be splendid held from 26 to 29, September!

As we entered into 2016, 12 groundbreaking editions of wire China has already taken place. As the most influential trade fair in Asia's wire industry, wire China 2016 will once again be held at the New International Expo Centre in Shanghai in the duration from 26 to 29, September 2016. The organizers are excited to bring you a one-stop trading platform showcasing the wire industry's cutting edge products, technologies, and solutions from a new perspective.

Associated with "China Fastener info", the well-known media in the fastener industry, the organizers will launch the "Fastener Shanghai Special Zone" in Hall E4. They are committed to open up upstream and downstream channels to create a one-stop sourcing platform for fastener products, manufacturing equipments and raw materials.

Gathered with international pavilions and worldwide leading brands, the latest industry technologies to be displayed

With the growth of 18 percent, covering over 67,000 square meters, the trade fair wire China 2016 has created a new record: the Industry-wide product coverage will be presented by more than 1,650 brands. And more than 40,000 professional visitors, which come from over 20 fields in related to wire & cable industry, iron steel and non-ferrous metal industry, automotive supply, aerospace engineering industry, are expected to attend the fair.

As a worldwide leading show, wire China 2016 will attract 8 international pavilions from Germany, Italy, North America, Austria, France, Korea, Japan and Taiwan, offering grander exhibiting scale. According to the space limit of the original booking exhibition halls and the demands of exhibitors , the organizers timely increased 2 outside exhibition halls: WA /WB, and increased the Fastener Special Zone as well. All these measures will help the exhibiting scale and exhibitors' amount onto a new step, benefit the local industry, and will offer new concepts and ideas helping to accelerate the industry innovation.

Additionally, based on the China 13th Five-Year program, the government's investment on infrastructure, industrial layout, ecological environmental protection, energy saving industry will be increased. This will certainly increase the demands to wire and cable products. Subsequently, there will be more enterprises choose wire China as the platform to grasp more market shares. A glance of the confirmed exhibitors is as follows:

Dow, Borouge and Borealis, Wafios, Niehoff, Samp Sistemi, Numaillance, Eurolls, Elantas, Fiber-line, Wanhua, DSM, LG CHEM, Lubrizol, TEIJIN, Wheelabrator, PolyOne, KOS Wire, Dainichiseika, Furukawa, Gauder, Suzuki Garphyttan, Nexteck, Zumbach, TOTOKU, Maillefer, Bekaert, Sandvik, Hefei Smarter, Shanghai Kingstone, HOSN, Grand Ease Yong Xiong, Jiangsu Handing, Langfang Xinming, KECHEN, Zhangjiagang Sanfeng, Originaldow, Tianjin Huayuan , Shenyang Tianrong, Wanma, Zhongchao, Simco Machinery , Kaibo Compounds, Kunshan Fuchuan, Wuxi Hengtai, Singcheer Machinery, Jiangsu Winlong, Chuangzhan Machinery, Jingtie Machinery, Jiangxi Copper, Golden Technologies, Honta Machinery, Yitailong, Harbor Technology, etc.

Fastener Shanghai Special Zone
WAFIOS,Yeswin, Meishan CRRC, Eagle Metalware, Aozhan, Zhongsheng, Huawei, Yongxin, Sijin, ChunYu, Ching Chan, FQC, Wan Iuan, Schnorr, Chaoboer, Huihung, Yourong, Henghui, Leda Metal, Boito, Yuanchuang, Guanhong, Yingxing, Tenggong, Aero Fasteners, etc.
(*information as of 10 Sept. 2016):

Participated with distinguished guests, the concurrent events to lead industrial breakthrough

In order to create values for customers and associated members, the concurrent event- 2016 China's Wire & Cable Industry Conference, will be themed with "innovation, optimization, vitality". The seminars will discuss the domestic and global economic situation, and actively explore the method of industry transformation & upgrading and the direction of technical development. With the aim to give the valuable guidance on the industrial adjustment, technology innovation and development, this year's seminar will highly focus on the analysis of latest worldwide situation, the development trend of market and technologies, and the industrial strategies toward the 13th-Five-Year program.

12 years' glorious growth of wire China means the positive expectation from industries accompanying its substantial development. We insist that face-to-face communication will benefit your business rather than online contacting. We wishall participants success during the 4-daysof events!

For more latest information, please visit www.wirechina.net or sacn the following wechat code.

Ms. Doris Ding
Shanghai Electric Cable Research Institute(SECRI)
Tel: +86-21-6548 3517
Fax: +86-21-6548 3517
doris@secri.com
www.secri.com
Ms. Karen Bu
Messe Düsseldorf (Shanghai) Co., Ltd.
Tel: +86-21-6169 8307
Fax: +86-21-6169 8301
karen.bu@mds.cn
www.mds.cn

- the end -

Organizer background information

Shanghai Electric Cable Research Institute
Established in 1975, SECRI is the only research institution in China that incorporates R&D, testing & inspection services and engineering design of wire and cable, and exhibition and conference of the wire and cable industry. On behalf of the national and local authorities, it also do quality certification and make standard of wire and cable products. The capacity of staff has been over 500, in which one member of the Chinese Academy of Engineering, and over 90 senior engineers.

Messe Düsseldorf (Shanghai) Co., Ltd.
Established in 2009, Messe Düsseldorf (Shanghai) Co., Ltd. (MDS) is a subsidiary of Messe Düsseldorf GmbH, one of the world's top 5 exhibition organizers. MDS is committed to introducing world's No. 1 trade fairs to China and to providing Chinese and international customers with superior exhibition services.